People are eager to regain the freedom and vitality of their pre-pandemic lives now that vaccination rates are rising and COVID-19 is receding in many developed countries. Customers are streaming back to cafes and restaurants from New York to Berlin, airlines are gearing up for a rebound in leisure travel, and companies are making plans for a return to the office. Yet there's one feature of the crisis that seems sure to last: the huge jump in digital activity.

Online shopping, telemedicine, and other virtual and digital services boomed during the pandemic as people limited their movements and interactions to minimize the risk of catching the coronavirus. Habits born out of necessity over the past year and a half have turned into preferences because of their ease and perceived safety.

Companies cannot afford to coast on what's been achieved, though. They have a unique opportunity to retain and build on the upsurge in digital adoption. That requires recognizing the opportunity, getting closer than ever to consumers' evolving needs and aspirations, and continuously reimagining the customer experience. 

Consider what's at stake. The extent of digital activity varies widely by industry, with the proportion of routine banking transactions conducted online nearly four times greater than that of grocery shopping, according to an Oliver Wyman Forum survey of consumer sentiment across 10 countries. Yet even in the most advanced sectors, digital is driving most if not all of the growth. And in traditionally high-touch fields like consulting a financial advisor, buying food, or filling a prescription, more than 80 percent of activity remains in-person, which leaves tremendous growth potential for companies with a deep understanding of their customers. 

The pandemic's disruption leaves deep scars that are likely to shape consumer behavior for some time to come. Five out of every six people we surveyed have been touched directly by the virus or know someone in their community who has suffered serious health consequences; have had their job, household income, or savings affected by the crisis; or have been subject to lockdown orders or other restraints on their activities. Nearly one-third of them have taken a hit in all three areas of health, finances, and freedom of movement, and almost half of this cohort has had to adjust their lifestyles because of financial hardship. Many people have reassessed such basics as where to live and how to balance careers with family needs.

But there is no universal COVID-19 experience. People who have not been affected by the pandemic report few indicators of stress, such as seeking support for mental health or advice on managing their finances. They also report lower adoption of telemedicine and online shopping. The opposite is true for those affected in all three areas. We also find quite different levels of consumer optimism about the future, with an improving trend in the United States and European countries, higher but stagnant levels of optimism in Brazil, China, and Mexico, and deterioration in Australia.

All of this means that companies need to look afresh at their customers with a deeper understanding of how the pandemic has affected them and changed their habits and motivations. Those insights will enable companies to engage with consumers more deeply and with more trust, to innovate the customer experience, and to enhance their brands for the long run.
Less Is More in Data Migration
With COVID-19 accelerating the shift to digital, firms are racing to transfer data from old, bloated IT systems to nimble and modern setups to launch new online services and maintain operating systems remotely. But these are large and costly undertakings, often lasting years and failing to live up to promised results.

Companies can avoid trouble and fuel faster migration and innovation by trimming the fat and dropping the perfectionist mentality. Here's how:

Start with a minimum set of viable data

Forget about moving all of the foundational data from legacy to new IT systems. Instead, save time by migrating only the minimum amount of viable data.

One financial services firm shaved years off its data migration project after managers decided to move only the current value of a particular financial product and its transaction history. The thousands of columns of left-behind data could simply be recalculated in the new system, if needed. What could've been a two-year project instead took just four months.

Look for data to leave behind

Access to affordable data storage options makes it tempting to park legacy data in cold storage, but it's easier, faster, and more cost-effective to retire data that's truly unneeded.

Organize which data to migrate by must-have for safety or compliance reasons, need-to-have to achieve critical objectives, and dispensable, nice-to-have data. Be prepared to move more data sets into the nice-to-have bucket as you make progress.

Weigh speed against perfection

Encourage IT colleagues to push back on requests for perfect, noncritical data. When non-IT managers suggest data standards, their preferences for stronger data quality should be balanced against competing demands – like updating an operating system rapidly. Otherwise, migrating data to a new system can drag on and on.

Aim for reasonable, quantifiable, and testable data quality standards rather than perfect accuracy. Expecting perfect data is an easy trap to fall into, but pandemic timelines have crystallized how that approach loses sight of the goal — getting the new information system up and running to better serve the business.

Read the full story here.
Fast Facts, By the Numbers
Most people are trying to reduce their carbon emissions, and they want companies to act too, according to a recent Oliver Wyman Forum survey of almost 5,600 people in seven countries.
84 percent 
– Consider it important or very important for companies to commit to reducing their carbon footprints and become net-zero emitters. Italy leads the group with 94 percent while the US lags at 74 percent. 
Source: The Oliver Wyman Forum.
65 percent 
– Say emissions commitments will influence their willingness to buy goods from a company. China tops the list with 89 percent of respondents and Germany sits in last place with 50 percent.
Source: The Oliver Wyman Forum.
13 percent 
– Plan to travel by bike or foot more in 2021 to lower their carbon emissions. Along with recycling or upcycling more, it is the most popular eco-friendly lifestyle change among consumers. 
Source: The Oliver Wyman Forum.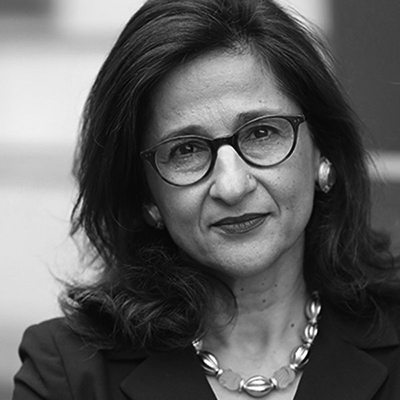 Minouche Shafik
Director, London School of Economics and Political Science
"I'm really interested in leveling the playing field between capital, which we don't tax enough, and labor, which we tax a lot."