The events of Jan. 6 shocked the United States and sent reverberations around the globe. The mob assault at the US Capitol demands a fundamental rethinking of our political and social norms and behavior.

Business can help lead the way rather than simply trying to move on after the acquittal of former President Donald Trump. Mob violence doesn't promote prosperity. And corporate leaders should have little interest in fostering hyper-partisanship that risks alienating customers and preventing the political system from addressing issues like immigration reform and aging infrastructure. What happened in Washington isn't just a US issue. The EIU global democracy score dropped in 2020 to its lowest level since the index was launched in 2006. Authoritarianism has risen and extremist views have increased globally, fostering economic nationalism and an erosion of the rules-based trading system. 

It is in the private sector's interest to resist these forces and restore civic virtues. Fortunately, the recent focus on stakeholder capitalism provides a roadmap for change. In 2019, nearly 200 US CEOs signed a Business Roundtable pledge committing to run their companies for the benefit not just of shareholders but of employees, customers, suppliers, and the wider community. This movement has grown stronger in the wake of the Black Lives Matter protests and the growing focus on the threats of climate change and income inequality.
 
Now companies need to demonstrate they are turning those words into action. Signers of the Business Roundtable statement pledged to compensate employees fairly, support them with training, and foster diversity, for example. So why not publish annual statements – with metrics – that describe how they are investing in employees and trying to attract a diverse workforce? 

Business also should seek to have a more-open relationship with government with clearer guardrails. There are already signs that change is taking place. More S&P 500 Index companies are providing greater disclosure and oversight of political spending, according to the Center for Political Accountability and the Zicklin Center for Business Ethics Research at the University of Pennsylvania's Wharton School. Greater transparency should benefit business and society. 

Firms also should reconsider their stance on regulation. They have every right to express their views on specific rules but blanket opposition to most regulation is neither sustainable nor productive. 

The business community can't prosper long term if political and economic divisions push us to the breaking point. We've seen many business leaders focus on inclusion and positive change during the pandemic. It's time for more of us to make those commitments. Our customers and employees expect it, and we expect it of ourselves. 

Read our full story here.
Some Good News on Vaccines
Efforts to vaccinate people against the coronavirus have hit hurdles ranging from production bottlenecks to severe winter weather in the central US, but one bright spot stands out: Public desire to get a jab. 

The willingness of people in the US and the UK to get vaccinated increased between December and January, when both countries were starting to ramp up their programs, according to an Oliver Wyman Forum survey. 
A Shot of Optimism
The proportion of people saying they were "very" or "somewhat" willing to get vaccinated increased.
Governments still have work to do, though. While the vaccine reluctance of some minority groups has been well documented, our survey found a new gap – by gender. Women in France and the US said they were significantly less willing than men to get vaccinated.
Mind the Gender Gap
Percentage of respondents saying they are "very" or "somewhat" willing to get vaccinated.
Fast Facts, By the Numbers
We've been living with the coronavirus for over a year now. While vaccines offer hope, the US surpassing 500,000 deaths this week is a stark reminder that we're not out of the woods yet. Here's a glimpse into how our lifestyles have changed in the last year.
5.6 million - The number of massaging appliances sold in the US between January and October 2020, an 86 percent increase compared to the same time last year. Source: The NPD Group.
302 million - The number of global laptop and desktop computer sales in 2020, a 13 percent increase from 2019. Source: International Data Corp.
$141 million - The UK sales total of jigsaw puzzles in 2020, up 38 percent from 2019. Source: The NPD Group.
It's Time to Treat Gender Diversity Like a Business
Inclusion and diversity programs are proliferating but many fail to produce results for women. They represent nearly one in two employees in industrialized countries, yet only one in four senior executive roles in North American companies is held by a female, and just seven percent of CEO seats at Fortune 500 companies. Firms can show they mean business by making diversity a true goal.

The unwritten rules of winning promotions often leave women out. Men define effective leaders as "direct" and "decisive" while women emphasize those who "empower teams" and have a "collaborative" approach, according to interviews Oliver Wyman conducted with more than 160 senior female executives in the US and Canada and a cross-industry survey of men and women. Women also don't prioritize networking as much as men.

Companies need to be more intentional – and start at the top. C-suite executives should educate themselves and their senior ranks about the implicit biases and barriers that women face. Executives who serve as advocates to open opportunities for women can play a big role. Then companies need to track diversity metrics much like they do financial performance. That kind of accountability shows whether firms are walking the walk on gender diversity.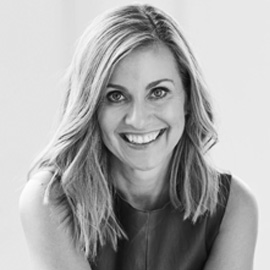 Julie Inman Grant
Australia's eSafety Commissioner
"People are losing patience. Why should we become the online casualties on the digital roads?"