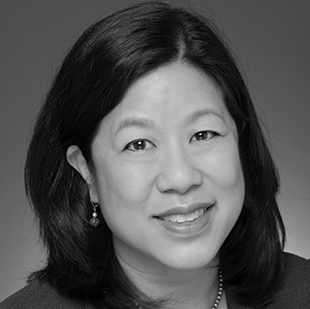 San Francisco sits on the fault lines of powerful forces disrupting urban transportation. The pandemic has hammered mass transit, and it's unclear whether old patterns of working, living, and traveling will return. Some people see automobiles as a safer choice even though they contribute to climate change risks like the wildfires that increasingly choke the Bay Area's air. Technology promises a tantalizing mobility future of autonomous vehicles (AVs), which are being tested in the city, yet today vans delivering online purchases frequently clog the streets.
Transit faces an existential challenge, says Tilly Chang, executive director of the San Francisco County Transportation Authority. Municipalities in the wider Bay Area plan to invest $1.4 trillion in housing, transportation, and economic development by 2050 to accommodate a projected 25% rise in the region's population, to 10 million, yet transit has lost mode share outside of San Francisco, potentially challenging that vision. "Are we just going to be resigned to incrementalism when what may be most needed is bold action?" Chang says. "We don't have time to lose."
San Francisco is sticking with its transit first policy, established 50 years ago, which emphasizes public transit as the most efficient, sustainable, and equitable means of moving people and goods. And Chang notes that the recent passage of the Infrastructure Investment and Jobs Act will significantly increase federal funding for mass transit, bridges and bikeways. With traffic returning to pre-pandemic levels, she says, "the city is prioritizing buses and making streets safer in line with our Vision Zero goals," which aim to eliminate traffic fatalities.
Chang spoke recently with Andreas Nienhaus, a partner in Oliver Wyman's Automotive and Mobility practice and member of the Oliver Wyman Forum's Mobility leadership team, and Alexandre Bayen, associate provost for Moffett Field Program Development at the University of California, Berkeley, and former director of the university's Institute for Transportation Studies.
What positive strategies can get people back on shared, sustainable, and more eco-friendly mobility?
There will always be a commitment to public transit because we are a dense city and there are no more efficient modes or dependable options, especially for the most vulnerable. Our hope is to get people back to transit with faster, more reliable service, and affordable fares. We have re-oriented services to serve neighborhood-to-neighborhood and off-peak demand while also supporting the return of commuters. But many operators are still struggling with low fare revenue, and the federal government's COVID relief act only provided two years' worth of funding. So, by late 2023, if our economy is not back, and we have not restructured public transit funding to make it sustainable, some agencies may be facing a fiscal crisis.
Many tech companies are talking about having people spend three days a week in the office. If that becomes the norm, how will that impact transit?
Fixed-cost modes are going to have to figure out a new way to do cost recovery. That will put a hole in a big share of their fare revenue. The question is, how do we then restructure the monthly transit pass so it's still a better deal than getting a monthly parking pass? If three days are a given, I think it comes down to the economics of the higher-cost systems. Buses are more flexible, but some rail transit systems may need to explore pricing and incentives to spread out the demand and generate fares.
How do other mobility modes fit in that equation?
We've had some early success with micro-mobility and bicycling. We see an uptick with e-bikes, but that's going to require rapid expansion of protected bike lanes to realize the potential for growth. And with the higher-cost devices, we're going to need better bike parking and secure mobility hubs.
AV passenger services are being tested here in San Francisco, and we'll see what that market is commercially. Transportation network companies like ride-sharing services are in a transition phase right now. The prices are now higher, partly because of a lack of drivers and partly because the companies are accountable to shareholders. My perception is that we're still early in the AV trajectory, as companies initiate their deployments and research informs regulation. We need a lot of transparency and public involvement to shape this path thoughtfully and equitably.
How is your area preparing for the tipping point of technologies like AVs, electric vehicles, and urban air mobility?
Transportation accounts for approximately 45% of San Francisco's greenhouse gas emissions, so we are aggressively pursuing mode shifts and clean mobility. EVs will be a large part of the solution to bring San Francisco's carbon emissions down to our target levels. We must deal with the challenge of providing charging capacity to older multi-unit dwellings and promoting adoption equitably as we do this.
In addition, given our transit first policy, we need to shift modes even as we electrify. San Francisco has an 80% goal for low-carbon modes, which includes transit, biking, walking, and carpooling in EVs. Our Muni fleets are among the cleanest in the industry, but we need to retrofit and rebuild our facilities to convert them fully to electric.
Our view on new mobility and AVs is that innovation can bring great benefits, but we need to ensure these are well designed, inclusive and uphold the public trust. That means solving real problems and showing there are broad-based advances toward as many of our goals as possible, including labor harmony, Vision Zero, environmental propulsion technology, disabled access, low-income participation, and jobs. So, whatever the technology is – whether AVs or jetpacks across the bay – we want to make sure we look at them through this comprehensive lens.
Do you have a clear picture of whether these new modes, especially AVs, are competing with or complementing public transit?
I believe the complementary vision of autonomous vehicles is possible but not probable without strong public sector guide rails and protections for public transit. We haven't been able to do that with private vehicles, and our fear is autonomous vehicles will just replace private ones, potentially growing vehicle miles of travel. Ride-sharing services kept saying they were just going to fill the first/last mile access to public transit, but that's not what happened. They concentrated service in the downtown core where everybody was traveling.
At the pre-Covid peak, we estimated Uber and Lyft comprised one out of every four trips in the financial district and SoMA [South of Market]. Research also showed ride hail replaced trips made on transit and other sustainable modes, while inducing new trips. Therefore we need to install bus lanes and signal priority, as well as consider appropriate price signals. Our hope is to forge a vision where AVs can be shared collectors and feeders to public transit, or play helpful roles in other under-served markets. One way we are doing this is by sponsoring an AV shuttle pilot project on Treasure Island, which will complement the main bus line and connect residents to the future clean ferry and bus hub on the island.
Congestion charging seems unavoidable but five years ago was almost unthinkable. What has changed?
New York's approval by the governor and the mayor was a major milestone. We've been talking about congestion charging for a decade and approved it for one neighborhood – Treasure Island – as part of a comprehensive mobility management plan that our agency is helping to implement. Congestion pricing and the reinvestment of revenues to expand transit has emerged as part of the policy toolkit for multiple plans in our region. Many advocacy organizations press for this policy, and the effects of climate change are very real and present with annual wildfires, orange skies, and extreme weather.
For these reasons, our board asked us to develop a program that is effective and fair. We have assembled a diverse advisory group to guide our current congestion pricing study and, though we paused to see how traffic and transit patterns settle with return-to work practices in the new year, we expect to resume the study eventually. The priority is to support a healthy economic recovery. Any solution would take five years to implement, so it's best to take our time and develop policy options via an inclusive and data-driven approach.
What is the best-case scenario for San Francisco mobility for the next five to 10 years?
The most important thing is to safeguard and strengthen public transit. We will eventually recover and that economic recovery must be transit-based if it is to be healthy and avoid hyper-congestion. This means developing our rapid transit network, renewing our subway, modernizing our train control systems, and building the next generation of rail lines across the city and around the Bay.
As we do this, the whole Bay Area needs to focus on the integration of transit and affordable housing. We're going to need to support cities and transit operators in pursuing transit-oriented development, and combine that with innovative demand management strategies, including turning parking minimums to maximums and creating more flexible and affordable transit passes. That's the kind of robust approach that can maximize transit ridership and avoid exacerbating congestion, wealth disparities, and our climate crisis.