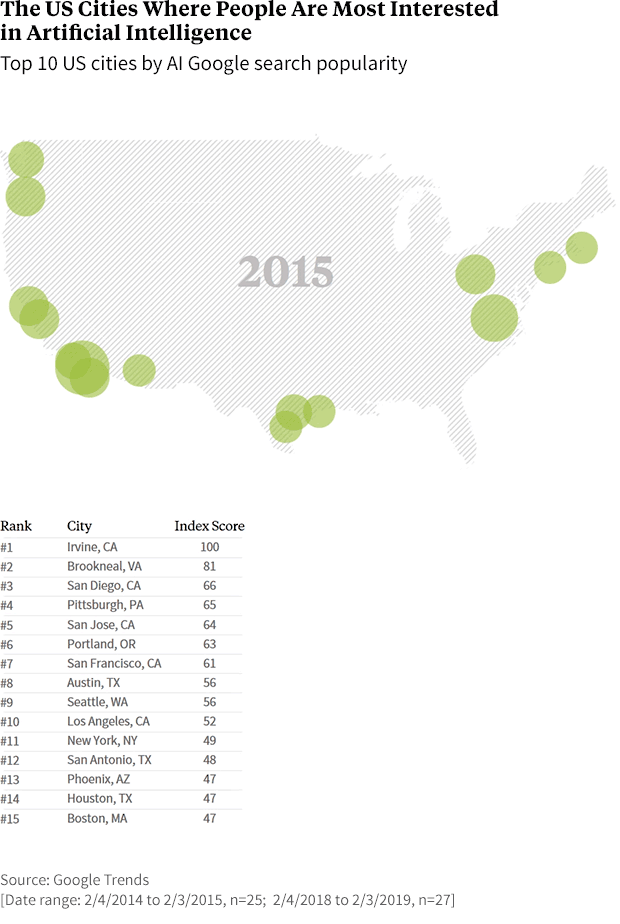 The leading cities of today won't necessarily prevail tomorrow, as technological advances like AI disrupt the way we live and work. To get a sense of which cities' residents are most interested in AI, we conducted a Google Trends analysis to identify the US cities where "AI" or terms related to artificial intelligence accounted for the greatest portion of Google searches over the past year.
We discovered that the three cities that conducted the most searches using "AI" are no longer even within the top ten four years later. Meanwhile, residents in Washington D.C., Boston, MA., and New York city became much more interested in the term. Residents in Mountain View, CA., Cambridge, MA., and Berkeley, CA., are conducting the most searches using "AI." See our list below to find out the other cities were residents are interested in AI.
Source: Google Trends. Note: In each Top 15 list, cities in the Silicon Valley within a tight geographical area were removed from the ranking and data set. Sunnyvale and Santa Clara were removed from both lists due to their proximity to Mountain View.